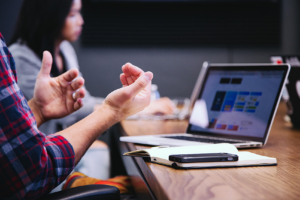 Virtual events are likely to remain a firm fixture for some time, but do industry professionals like them? A recent survey found that while more than three quarters of survey respondents from the pharmaceutical and medical device sectors felt that virtual events would become much more popular in future – rivalling face-to-face events in number – they also highlighted aspects which have been unsatisfactory and need to be re-appraised by event organisers.
The survey by Owen Mumford Pharmaceutical Services which presents the impressions and predictions of industry professionals to date, serves as a wake-up call to event organisers.
Before COVID-19, the business events industry was economically massive, generating over $600 billion in GDP. The pandemic presented organisers with the challenge of rapidly reproducing events on online platforms. As we come to the end of a year of virtual conferences, webinars and podcasts, the question remains: 'Are virtual events a suitable replacement for their face-to-face equivalents?'
To provide some early insight into this question specifically in the pharmaceutical and medical device industry, Owen Mumford Pharmaceutical Services commissioned research among top manufacturers. Respondents were asked to give their opinion, based on experience of virtual events throughout 2020, of what has worked and what has not.
Their responses make valuable reading for event organisers, as the benefits of virtual events – reduced travel time, reduced environmental impact and financial savings – will remain attractive even after the pandemic. Though the respondents have been underwhelmed by many virtual events so far (in terms of content, technical platforms, interactivity, price etc.), they remained positive about the potential for creating better experiences in the future. In fact, criticism of virtual events was most vehement where face-to-face methods had simply been ported online, with little thought about whether this would work satisfactorily for delegates.
"There are some areas of the in-person experience which are highly difficult to replace, especially the networking element which is so critical at conferences, and the ability to demonstrate a device and let delegates see how it works. But we see scope for innovative thinking from event organisers and this survey suggests that there is an appetite for this in our industry," said Denis Marteau, General Manager at Owen Mumford Pharmaceutical Services.
https://interhospi.com/wp-content/uploads/sites/3/2021/03/virtual_event.jpg
1134
1701
panglobal
https://interhospi.com/wp-content/uploads/sites/3/2020/06/Component-6-–-1.png
panglobal
2021-03-29 08:01:34
2021-03-29 08:01:34
Virtual events – does the industry like them?